Posts Tagged ' music '
Jan 2, 2010 Studio & Instruments
We have uploaded pictures of Nawed Khan's studio on his Facebook fans page.
Please visit Nawed Khan's Studio Pictures at Facebook.com/NawedKhanMusic
In pictures you can see the following instruments/equipments.
Keyboard:
– Korg Pa2X Pro Intelligent Arranger/Workstation
– Roland AX-1 Strap-On MIDI Controller
-M-Audio KeyRig 25 MIDI COntroller
Sound Modules:
– Roland XV5080
– Roland MDC-1
– Korg Triton Rack
– Korg X3R
– Yamaha MU90R
Mixers:
– Roland M120
– Samson PL1602
– Boss BX60
Audio Interface:
– Roland M16DX
– PreSonus R DBUS V-Fire
MID Interface/Controller:
– Behringer BCF2000 with motorized faders
– MOTU MIDI Xpress
– Roland SPD6 Drumpad
Mics:
– MXL V63M Condenser Mic
– Shure SM58s
Video Monitors:
– Proview 17″ (times 2)
– HP 17″
Audio Monitors:
– Roland DM20 Digital Studio
– Yamaha MS101
– Yamaha Bookshelf (for reference)
Effects Processors:
– Alesis MidiVerb 4
– Alesis MicroVerb 3
– Alesis Nano Verb and Nano Comp
– Behringer Composer Pro Compressor
– Digitech Digital Delay RDS1900
Audio Players/Recorders:
– Sony CD Duplicator
– Tascam CD/Tape player
– Danon 5 Disc changer
– Sony Audio Receiver
Guitars:
– Yamaha BB350 Bass Guitar
– Guitar Research LG33 Electric
– Yamaha Acoustic/Electric
Tags: audio, behringer, cd, control, digitech, edirol, effect, guitar, home, keyboard, khan, korg, m-audio, mic, microphone, midi, monitor, music, nawed, nawedkhan, recording, recording studio, roland, sony, studio, tape, video, yamaha
Dec 25, 2009 General
Here is the link to my channel on YouTube…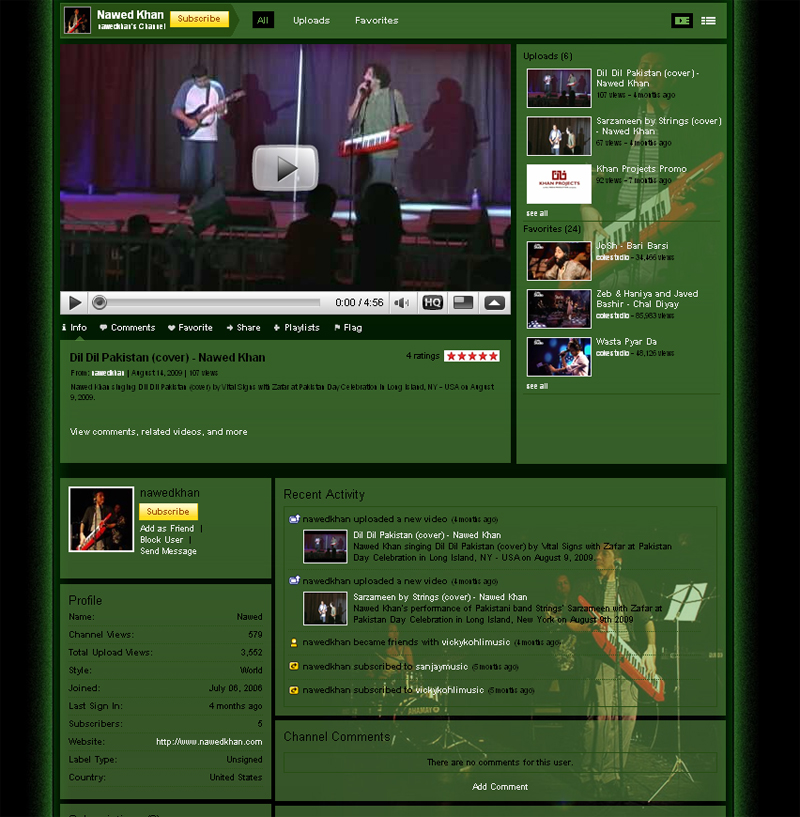 I have uploaded videos rom Pakistan Day Parade, Long Island – NY, August 2009.
More videos and favorites will be added shortly.
Tags: channel, latest, media, movies, music, nawed, nawedkhan, video, youtube
Dec 24, 2009 General
I have created a new Twitter profile to go with my music.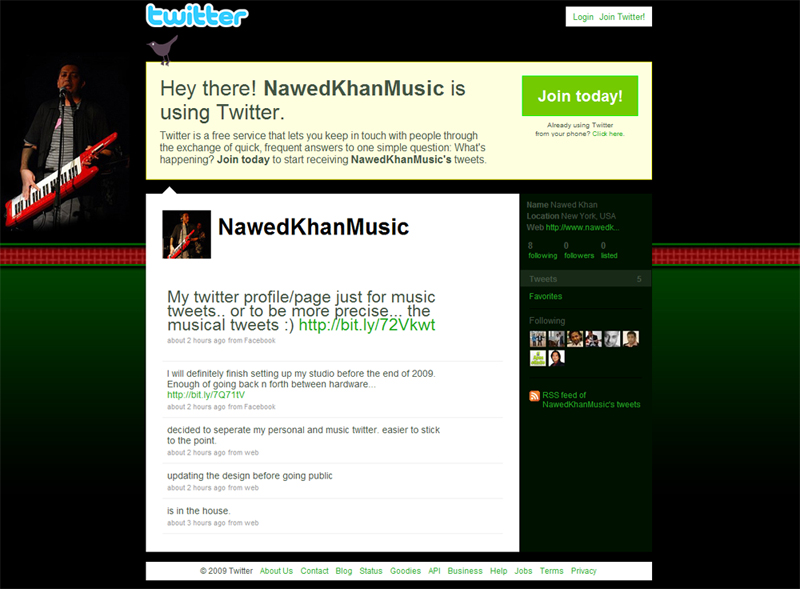 This will help me promote updates in my music career and keeping my personal tweets seperate.
Sounds like a good idea??